Home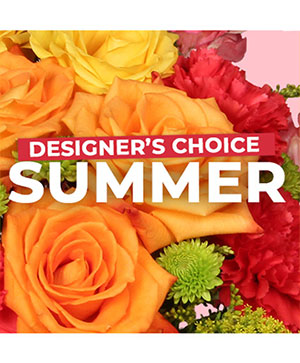 Summer Flowers
Designer's Choice
Summer is the time for fresh flowers! Bring that sunny outdoor feeling indoors with our Designer's Choice Summer Flower Arrangement. We'll create something that will have you celebrating the beauty of the brightest season of all! A colorful bouquet is exactly what you need to warm up your summer home.
More Info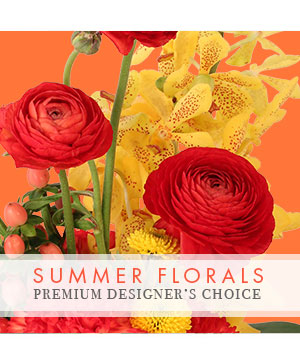 Summer Florals
Premier Designer's Choice
There is nothing better than a summer flower arrangement fashioned by our professional designers. These flowers and their astounding beauty will make any space look as elegant and classy as ever. Bring home the luxurious feeling of fresh flowers with our Premium Designer's Choice flower arrangement.
More Info
As we continue to take necessary precautions regarding COVID-19 we will continue to be of service to anyone who may need it.
We are currently taking online, phone and walk-in orders, and will make limited contact deliveries. We will notify the recipient they have a gift waiting at their front door via text or phone call for contactless deliveries.
Please be patient with us as we are expecting flower shortages as we go into Mother's Day. Specific inventory may be limited, unfortunately. If a substitute is needed, we will choose the closest substitute possible. If a major substitute is needed, we will contact our customer.
Thank you to all our amazing customers who have continued to support and stand behind us.
#FlowersWithImpact